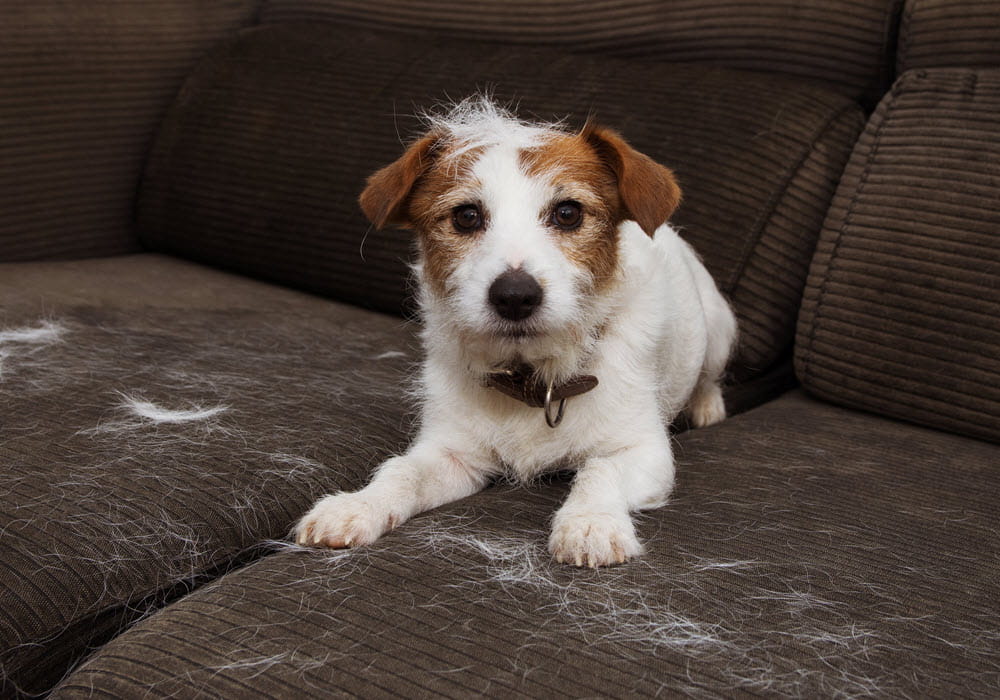 Although you like your dog, the extended hours spent snuggling on the couch with him have probably resulted in an accumulation of dog hair on your furniture. On fact, there is undoubtedly hair on your clean clothes, in the carpet, and in every room's corner. Dogs, especially those with long coats, enjoy showing off their travels to other people. Fortunately, there are several appliances and grooming supplies that may help you reduce the amount of dog hair buildup in your house.
Clean Your Dog
Remove the hair off your dog first, preferably outside, before you even begin to remove it from your house. Take a dog brush, such as the Bamboo Groom Soft Slicker Brush with Stainless Steel Pins & Comfort Tips for Pets, and begin at the head and work your way down to the tail. Remember to touch his chest and underbelly—these are frequently the first places where his hair accumulation seeps into your house. It's a good idea to have your dog in for a thorough groom if he has particularly long hair, knots in his fur, or needs his paw pads or nails cut in addition. He'll feel and look better, and you won't have to worry as much about hair in your house.
Clean Your Carpets
Your standard vacuum cleaner definitely won't do the trick if you have a long-haired dog or live with multiple dogs. Instead, think about purchasing a vacuum designed especially for pet hair. These vacuums often also include a HEPA filter in addition to having designs that are built particularly to reach deep inside your carpets and remove undesirable hair. Your entire family will be able to breathe easier thanks to the filter's assistance in removing pet dander and other allergens from your house. Find something that is simple to move around corners. You might need to vacuum twice, even with a good vacuum, to get rid of all the hair. Moving ahead, vacuum at least once every few days and empty the vacuum machine often to avoid hair and dander accumulation.
Sanitize The Upholstery
To clean your sofas, chairs, beds, and drapes, use a portable vacuum or the attachments on your upright vacuum. At least once, but you might need to vacuum over each region twice. Try using a pet hair removal tool if the hair is very stubborn and won't come off. For capturing stray hairs and removing them from your upholstery, try rubber brooms, window squeegees, or even a moistened rubber glove.
Apply Anti-Static Spray
Static-filled clothing and furnishings are more likely to retain dog hair. On many surfaces, using an anti-static spray might be helpful. Use a soft cloth and the hair removal spray to remove hair and retain it on the cloth if your furniture is made of wood. When used with a lint roller, the spray may be used to remove trapped pet hair from carpets, pillows, drapes, and even clothing. But keep in mind that every cloth responds to these sprays differently. Never spray a complete object without first doing a spot test.
Hair Should Be Washed and Dried
Wash your pet's blankets in hot water to get rid of hair, germs, and bacteria. The hair may be made even softer by adding some white vinegar or liquid water softener to the washer. Pick out any visible hair after washing the goods, and then let them dry in a closed space away from your pet. You may also throw garments in the dryer on the tumbler setting for a few minutes to remove pet hair as required if you're in a rush and lint rollers aren't working.
Get Your Dog a Blanket
Put a pet blanket over each of your dog's preferred areas if he prefers to sleep on the bed, the couch, or the corner of your carpet. It is advantageous to use blankets for a variety of reasons. It prevents hair from getting on your furniture, keeping it from looking unclean, and it enables you to use your vacuum less frequently, extending the life of the machine. To avoid the accumulation of hair and dander, wash the blankets at least once every week. Make sure to wash your pet's bed at least once a month if he has one.
Include a Robot in Your Toolbox
In reality, most houses require daily sweeping or vacuuming to maintain a hair-free environment. Nobody has time for that. Of course, adding a robot to your arsenal of tricks is the answer. Fur and dander accumulation can be avoided with a robot vacuum, and it will also make it simpler for you to clean floors and furniture when you do.
Maintain Lint Rollers in Each Room
You may not be aware of the versatility of your lint rollers. You are aware that you may use one immediately before you leave the house to eliminate extra dog hair. But take into account further applications as well. Roll it over your tables to keep hair from clinging to them, put it on your drapes if you start to notice a buildup, and run it over the sofa once our dog is finished hugging you for the day. Even your dog can benefit from using the lint roller. Rolling one over him will stop him from shedding excessively until his next thorough brushing if you detect stray hairs on him.
Petstup is an official seller of the many well-known pets brands, focused on improving the lives of pets, pet parents and our partners. We proudly offer a large variety of pet nutrition products and supplies competitively priced for dogs, cats, reptiles, fish, birds and small animals. Petstup is your one stop shop for all your pet's needs. All our products are authentic, and pass all mandatory United States standards and veterinary practices. We run several warehouses across the United States to serve you better and faster.