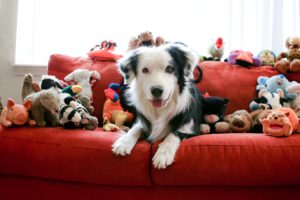 You adore your dog, and your dog loves playing. As a result, you want to buy the most enjoyable toys imaginable. When you start looking for toys for your pet, you're undoubtedly taken aback by the apparently limitless selection. You don't need to be concerned. By following a few easy criteria, you can choose the ideal toy to help your pup make the most of his or her playtime.
Consult Your Veterinarian
When looking for dog toys, remember to keep your pet's health in mind. As you would expect, not every toy is appropriate for every breed of dog. Before you buy, you must be certain that the new toy will not hurt your dog's teeth or general health. While you may probably apply common sense when purchasing new toys, you can't match the counsel of a qualified veterinarian. If possible, consult your veterinarian about any particular toys you want to purchase. Inquire about the types of toys that your dog may enjoy in a healthy manner if you need a basic notion. You can probably find the healthiest, safest toy for your pet by asking a few questions.
Consider Pet Safety
Unfortunately, the things that your dog enjoys the most are frequently the ones that pose the most danger to his or her health. As a result, while selecting a toy for your dog, safety should be your primary consideration. Remember that just because a toy is sold by a company does not imply that the item is safe for all dogs. Give every toy to your dog a careful examination before giving it to him. Simply said, you should avoid toys with sharp edges or tiny parts.
Consider the Size of Your Dog
You must consider your dog's size when selecting playthings to ensure your pooch has a safe and enjoyable time with a new toy. Large dogs are normally capable of handling large toys, but they may also be capable of destroying them. Smaller puppies, on the other hand, may find large toys threatening. When making your purchase, make certain that your dog will not be able to ingest the toy. Also, be certain that he or she cannot shred the toy into tiny bits that might easily lodge in the throat. You can almost guarantee that your dog will have a safe and pleasurable time playing with the new toy if you choose a size-appropriate item.
Have a Ball Toy
As a new dog owner, you may be tempted to buy a plethora of toys for your pet. That may be a bit much. Many dogs like playing with ball toys. As a result, a ball is most likely the first toy you should get for your new dog. However, when it comes to balls, you have a plethora of possibilities. You might get a plush ball for elderly or smaller pets. These are silky and comfortable to hold. A rope ball toy or tennis ball may be preferable for more energetic and bigger dogs. Remember that if your dog chews or has strong teeth, you should definitely go for a thick rubber ball toy.
Provide Them With Something To Chew On
Every dog enjoys gnawing. When shopping for toys for your furry friend, don't forget to include something for him or her to gnaw on. Chew toys not only keep your dog engaged, but they also redirect your dog's interest away from your furniture and shoes. You have a number of alternatives when it comes to selecting the best chew toy for your pet. Rubber chew toys are thick, allowing them to last a long time. These are often your best bet for big dogs. If your dog doesn't like rubber, a rope chew toy could be a better option. Rope chews, which come in a variety of sizes, shapes, colors, and patterns, are popular among dogs that like playing tug-of-war. Alternatively, use a soft toy with a squeaker to stimulate your dog's natural hunting instincts.
Consider Soft Toys Twice
Soft toys are ideal for little dogs, but they might be dangerous for bigger dogs. If your dog is kind, he or she may like carrying a soft toy about with him or her. If your pet is really active, he or she may shred up a soft toy in a fast. Dogs often select soft toys because they may pretend the item is prey. If your dog enjoys hunting, provide him a plush toy that is the appropriate size. Consider what your dog could seek in the wild and get a toy that is comparable in form and size.
As a responsible dog owner, you must keep a watch out for plush toys. When the toys begin to deteriorate, remove them from your dog's possession. Dogs often like destroying soft toys. Even so, when dogs start ripping at a toy, they reveal harmful portions of the object. Instead of allowing your feline friend to choke, replace the broken plush toy with a fresh one.
Construct a House
Your dog, like you, enjoys having his or her own area. Don't forget to construct your dog his or her own home while searching for methods to engage your pet. You may make your dog feel like he or she has a particular area to be with the correct bedding and other furnishings. Then, in the dog's section, you may store toys and other beloved objects, giving your dog a one-of-a-kind place to call home.
How to Extend the Life of Dog Toys
Dogs, like people, may get bored with toys. You may assist your pet avoid boredom by getting a selection of toys for him or her. Don't give your dog all of his or her toys at once; instead, rotate them every few days to lengthen the life of your dog's toys. Also, be sure to clean dog toys on a regular basis to keep them in the best condition possible.
You don't have to be overwhelmed by the vast number of dog toys available, whether you're buying online or at a physical store. Instead, with a little work, you can ensure that you get the appropriate play item for your pet.
Petstup is an official re-seller of the many well-known pets brands, focused on improving the lives of pets, pet parents and our partners. We proudly offer a large variety of pet nutrition products and supplies competitively priced for dogs, cats, reptiles, fish, birds and small animals. Petstup is your one stop shop for all your pet's needs. All our products are authentic, and pass all mandatory United States standards and veterinary practices. We run several warehouses across the United States to serve you better and faster.