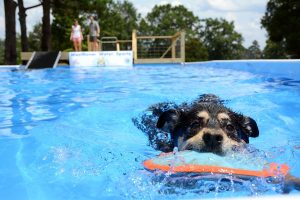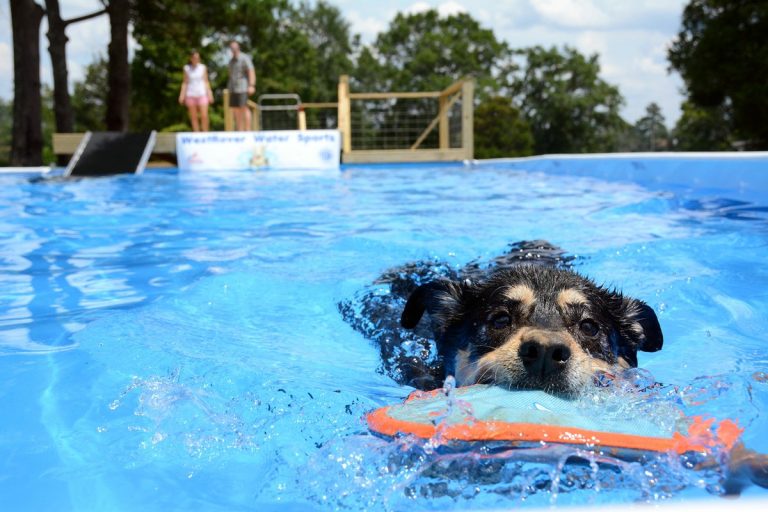 Because your canine athlete may require more than a simple walk around the block.
Is your dog often the first to dive into lakes or swimming pools? If your dog enjoys playing fetch in the water, you may have a future dock-diving champion on your hands. Dock diving is one of the most popular canine sports, according to the American Kennel Club (AKC), and it's simple to understand why. Watching dogs leap into the air is awe-inspiring, not to mention entertaining to see them create a tremendous splash. Should you and your dog participate in this activity as well?
What Exactly Is Dock Diving?
Dock diving is a dog-specific diving competition. They run the length of a dock (a platform) and leap into a pool to grab a toy tossed into the water. According to North America Diving Dogs, the dive (or leap) is measured by height and distance. Some events also honor the dog who retrieves an object the fastest.
Dock diving is enjoyable for water-loving, toy-driven dogs, according to Linda Torson of DockDogs Worldwide. It's also a unique way to spend time with your dog.
Dock Diving Equipment for Dogs
A pool or lake where your dog may practice leaping in to fetch a toy is great for dock diving practice. However, Torson warns against sending your dog down a diving board built for humans.
"It's too little and maybe too high up. Our docks are two feet above the surface of the sea "she claims "Instead, have your dog leap off the side of the pool."
You don't need anything else but a body of water for your dog to splash about in and his favorite floatable, retrievable toy. You may even teach your dog without a pool or lake at home. Torson describes "land work" as "practicing your dog's sit and stay commands, retrieving, and making sure your dog is fit and ready for competition."
Breeds of Dock Diving Dogs
The Labrador Retriever and Belgian Malinois are popular dock diving breeds. "Whippets have recently taken the sport by storm as well since they're exceedingly quick and athletic," says Torson.
What is more essential than breed is if your dog enjoys swimming. Not all dogs appreciate getting wet. Breeds with a history of retrieving ducks from ponds and lakes, such as golden retrievers and Nova Scotia duck tolling retrievers, are more likely to take up the activity, as are breeds that thrive in aquatic environments, such as the Portuguese water dog.
How Dock Diving Training Works for Dogs
Assuming your dog understands how to swim (and loves it! ), the first step is to teach him the dock-diving technique. Maintain a good attitude while training and master each of the following phases before going on to the next:
1. On land, play with your dog's favorite toy.
Make your dog want to chase the toy in your hand, then raise it in the air and watch your dog jump for it. When your dog jumps for the toy, lavish him with praise.
2. Move playtime to the beach.
Repeat the first step in a little amount of water to get your dog used to splashing about.
3. Execute the first cued leap.
Allow your dog to sit on the beach as you stand in shallow water with the toy held in front of you. Call your dog over to get the toy. When your dog leaps into the water to retrieve it, lavish him with praise.
4. Make it more difficult.
Gradually transfer your dog back on dry land while raising the height of the toy.
5. Experiment with jumping from a pier.
Place your dog near the dock's jumping-off point. Toss the toy about five feet away. If your dog does not jump, return to your shoreline work. Congratulations if your dog makes the jump! You may now focus on having your dog sit further back on the pier and throwing the toy deeper into the water.
The trick is to improve your dog's confidence through practice while keeping it enjoyable. DockDogs has affiliate clubs all around the country, making it a wonderful location for newcomers to start. They provide training sessions and fun jumps so your dog may get dock experience.
Why not give it a shot if your dog enjoys water and toys? It's wonderful exercise for your pet and a chance for you to meet other pet owners. Most importantly, it's a lot of fun!
Petstup is an official seller of the many well-known pets brands, focused on improving the lives of pets, pet parents and our partners. We proudly offer a large variety of pet nutrition products and supplies competitively priced for dogs, cats, reptiles, fish, birds and small animals. Petstup is your one stop shop for all your pet's needs. All our products are authentic, and pass all mandatory United States standards and veterinary practices. We run several warehouses across the United States to serve you better and faster.